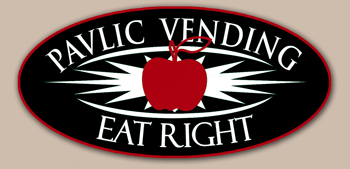 Eat Right Program
As everyone is aware, the trend in the food, dining, health insurance and vending industries is toward more healthful eating, snacking and wellness.
To promote healthy eating options for our customers, Pavlic Vending has developed our "Eat Right" program. Items included in our program comply with the Nation's most common standard for healthy snacks called 35/10/35.
This means that these items contain not more than 35 percent calories from fat, not more than 10 percent saturated fat and not more than 35% total weight from sugar. They may also be 100 percent nuts or fruits.
As products in our "Eat Right" program, these items will be placed along the right side of the snack vendor whenever possible, hence the name "Eat Right"... Get it?
A full 70 percent of all of our freshly made food items are Trans Fat Free, 92 percent contain less than 2 grams of Trans Fat and 27 percent are "Eat Right" items. To help our customers identify selections that comply, "Eat Right" items contain a prefix of ER - in the name of the item and the line, "A PVS Eat Right Item" on the label.
Additionally, items in our fresh food line have two labels. The front label indicates the item and ingredients and the second label includes full nutritional information.